West Sioux High School seniors gained a new opportunity this semester: A Center for Advanced Professional Studies program.
CAPS is a nationally-recognized, innovative program aimed at giving students experience that will help shape their future, which is what drew West Sioux business and computer teacher Erin Norling to the program.
"Giving kids those real world experiences is something I've always been very passionate about," she said. "I've always tired to keep my classroom based in business rather than textbook so after I heard about this program last winter, I knew I wanted to learn more.
A total of seven community school districts partner together under Siouxland CAPS. West Sioux is one of four high schools, including Boyden-Hull, Cherokee and Sibley-Ocheyedan, that recently joined the program that was already offered at MOC-Floyd Valley, Sheldon and Sioux Center.
Norling went through the CAPS training last spring and was able to shadow program instructors this past fall to help launch West Sioux's program this semester.
Open only to seniors, six students are part of the inaugural class. Students receive three college credits through Northwest Iowa Community College in Sheldon or Western Iowa Technical College in Sioux Center, depending on their post high school plans, and receive one high school credit, making CAPS a dual credit course.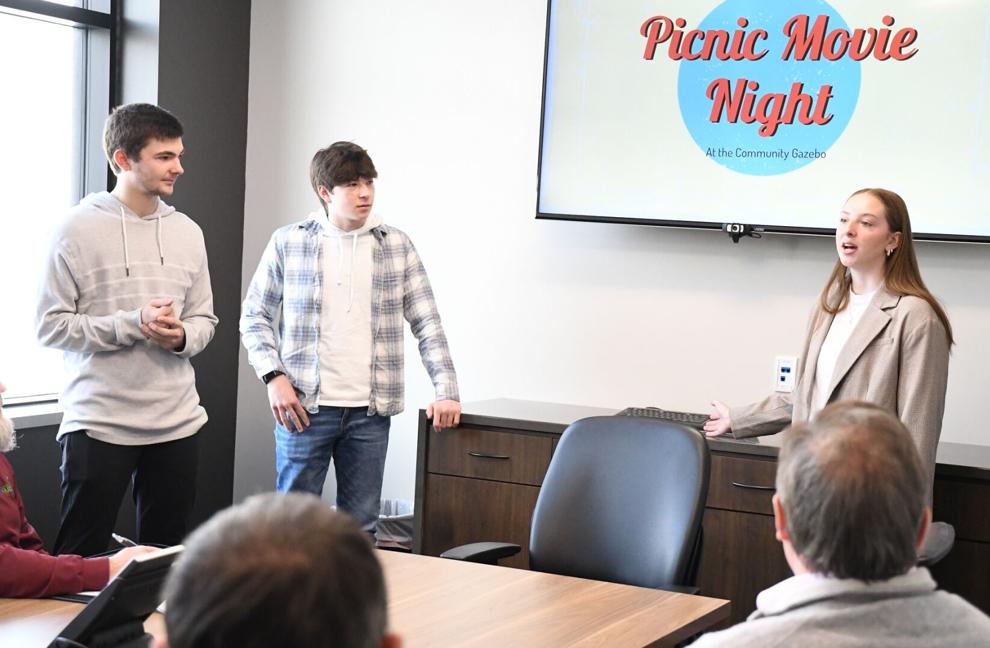 Students in the course meet daily during the last two periods of the school day at the Hawarden Public Library.
"CAPS pillars are innovation, career exploration, problem solving and professional skills," Norling said. "It's a nontraditional approach to learning that focuses on giving students real working experience. And it's another opportunity for local businesses to partner with students exploring different careers."
Some of that partnership is businesses and organizations providing tasks for the students to think through and present solutions for.
On Jan. 11, for example, after only a few days of class due to two snow days the first week back after Christmas break, two groups of three students presented their solutions to the Hawarden Area Arts Council's request for what more could be done with the town's gazebo.
In reaching out to businesses and organizations before beginning the semester, Norling has some project ideas in the hopper that are a mix from Hawarden Regional Healthcare, Hawarden's Economic Development Committee, Hawarden's parks department and the Hawarden Chamber of Commerce.
She plans to pick two for this semester.
Another part of the course is that students will be asked to find someone in their career field of interest to interview.
"In that interview they can ask what that person likes and doesn't like about their job, what does a day-to-day schedule look like — more of that hands-on rather than just what schooling is needed," Norling said. "A student may find out those things that make you disinterested in a career or job that sometimes you don't find out until you're in that field and then it's too late."
Ultimately, the goal is to have students become servant-leaders, effective communicators, innovators, budding professionals and to have found a purpose.
Going forward, the course will be offered each semester.
'It's been exciting to see the students get excited about these projects," Norling said. "We're just a few weeks into this program and they've really taken hold of the ideas and got involved. It's connecting them to the community in a different way and already helping students develop those CAPS pillars."